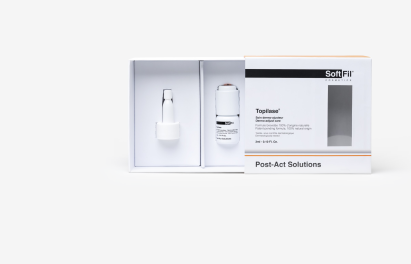 Topilase
Topilase® is an innovative alternative to injectable hyaluronidase created by an aesthetic doctor that provides a non-invasive, topical response to excess hyaluronic acid.

What is Topilase®?
From SoftFil cosmetics, Topilase® is the first patent-pending topical treatment option for adjusting the skin's hyaluronic acid level. The first-of-its-kind, this non-injectable skincare product is composed of 100% natural ingredients capable of smoothing out irregularities. In addition, it can reduce the voluminous appearance following an injection, and adjust the level of hyaluronic acid present in the skin, even reabsorbing excess product.
Topilase® was created by an aesthetic doctor to avoid potential inconveniences some patients experience with injectable hyaluronidase, such as skin laxity, significant and long-lasting dehydration, and even allergic reactions triggered by ingredients of animal origin. There are no reported side effects of Topilase®.The patent-pending formula is based on an enzymatic complex of lipase, protease, and hyaluronidase, in addition to natural ingredients known for their soothing and repairing effects: aloe vera, lavender, hydrangea, myrrh and cistus. The ideal formulation to effectively reduce unsightly surface volumes.

Left: Before applying Topilase® Right: After 3 sessions of Topilase®.
How Topilase® works
Reduces the appearance of swelling to restore the skin's natural appearance
Models and unifies the surface of the skin.
Smooths surface irregularities and reduces the appearance of defects associated with the presence of injected hyaluronic acid
How to use Topilase® works
A layer of the solution is applied to the area and massaged into the skin. Within minutes, signs of an over-filled feature will start to reduce. You may need between one and four sessions of Topilase® to minimise the volume.

Watch a video of how to use Topilase®
Watch a video of this patient's Topilase® testimony
Topilase® seen in:
Harper's Bazaar: Coming Soon: Topilase, a Cream That Can Fine-Tune Your Filler Results (December 2022)