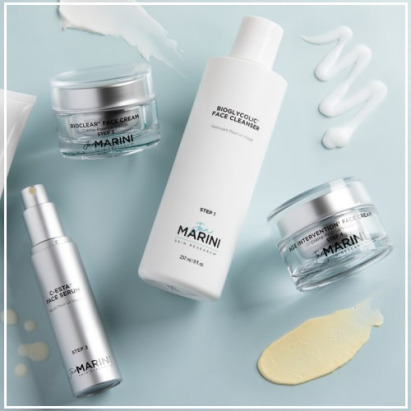 Vitamin C and antioxidants
Antioxidants, most notably Vitamin C, play a vital role in protecting the skin from free radical damage that is known to cause premature aging. Vitamin C antioxidants play a heavy role in the body, such as assisting collagen and elastin production, giving skin its youthful bounce and fullness. Despite the important role it plays in the body, Vitamin C is not naturally produced by humans so it needs to come from external sources, like antioxidant skin care products.
Jan Marini Vitamin C and antioxidant products feature a lipid-soluble form of Vitamin C that has been shown to enhance absorption, retention and efficacy, while its non-acidic formula is ideal for all skin types. In an independent published study in the Journal of Drugs and Dermatology, Jan Marini's Vitamin C product was shown to be superior to a leading traditional Vitamin C product in a blinded head-to-head consumer study showing superior results, satisfaction and value.
Explore the range, such as Rejuvenate & Protect, C-ESTA® Face Cream and Serum and more.